Newer posts are loading.

You are at the newest post.
Click here
to check if anything new just came in.
January
24
2018
Best Quality Wood Fired Sauna Heaters
Sauna, actually a Finnish term used in fitness and therapy circles all across the world, is best known for its great healing effect. It has been part of Finnish bath culture for more than 2000 years. Half of the Finns are seen using saunas for health/fitness, family gatherings, and as a location for social fun. The Finnish sauna soaking experience is matchless. It is only possible due to the top quality saunas produced in the Finland to the highest standard in the local sauna industry. Over all these years, a Finnish sauna refers to a better quality and designed sauna. The Finnish saunas have their power house in wood fired sauna heaters which generate and hold on to maximum heat. They make cost-effective heating options for sauna but mostly suit outdoor sauna applications.
In the present time, however, many people are still interested in having a traditional Finnish bath experience with low utility bills. Even though sauna heaters come in gas and electric models, but the option of a wood-fired sauna heater is more likely to recreate what they are looking to experience. It's not only about producing the heat, but also about the shining flame, the scent of burning wood, and the pleasant ambiance. The wood burning sauna heaters need a small amount of wood to function and deliver a soothing experience.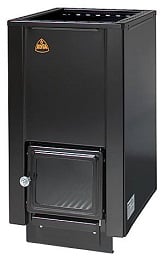 Top Features of Wood Fired Sauna Heaters
1. No Requirement of Electricity
Nature' fury can strike anytime in the form of a hurricane or flood jeopardizing the electrical connection completely. It may take a long time to restore the power supply in such situations before you start to use the sauna again. However, the use of wood burning sauna heaters can make your soak possible even in disastrous conditions. They are perfect for remote locations where there is no supply of electricity.
2. Healing Effect of Traditional Finnish Sauna
The temperature of a Finnish sauna, operating with a wood-fired sauna heater, exceeds the temperature of a steam room. The traditional sauna has 70% less humidity than Steam rooms which helps in fast relieving stress and tension, enhancing blood circulation at the same time. They also revive the skin through sweating or perspiration.  Of course, there may be confusion regarding your choice of steam rooms or traditional saunas, as both of them have their own advantages. If you want to experience a soft, therapeutic and pleasant soak, the wood fired sauna heaters will be the perfect choice.
3. Fun Gathering at the Sauna
Saunas provide traditional and desiring surroundings, especially if run with a wood burning sauna heater. If anyone enjoys igniting fires and organizing sauna parties, it will be the most appropriate option. The shining flames, the hiss of burning wood, and the distinctive aroma come together to please the senses. It creates the best setting for a fun time with your family or friends.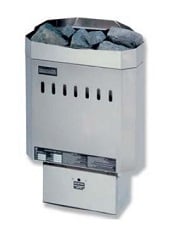 Of course, Finland is the best place for a traditional sauna soaking experience. It is a country of 5 million people and around 2 million saunas. The saunas can be seen everywhere including hotels, offices, homes, ships, sports centers, and on the coast of scenic waterways, lakes. Finland manufactures the top notch electric and wood fired sauna heaters distributed in the world. You can have the same quality and performing wood burning sauna heaters on Cedar Barrel Saunas. When you look for a superlative Finnish sauna soaking experience, its better to invest in the best designed as well as best priced wood burning sauna stoves. Northern Lights Cedar Barrel Sauna brings you a range of the best quality wood fired sauna heaters for ultimate Finnish soaking experience. Place an order for your favorite wood sauna heater with Cedar Barrel Saunas with a call on 1-800-759-8990 or via sales@cedartubs.com!
October
04
2017
Best Reasons to Invest in Home Saunas
Saunas are imperative for modern day rest and relaxation arsenal. They are widely available in professional spas. Do you know home saunas are common in homes? So why do you go outside? Instead, enjoy sauna benefits in the comfort of your home and Plan an hour of pure indulgence and a soaking in a bath?
So, why do you install a sauna at your home? Here are a few reasons to explain you better:
1. Looking for a way to relax after a long day at work? What's better than to sit and recline in home saunas? The presence of low humidity and heat inside will relieve stress, rejuvenate body and improve perspiration.
2. Do you find installing a sauna at home daunting? But in reality, it's not. Nowadays home saunas are available in the pre-fabricated kit. All you need to hire a pro and install a sauna right away.
3. Why go a spa where you've to sit with a dozen of people? Instead, you can enjoy the convenience of the sauna at home. With complete privacy, you will rejuvenate yourself.
4. Want to live a healthy lifestyle? Install a home sauna and burn up to 300 calories an hour. The heat generated from the sauna can make your sweat glands and your heart start working more actively than earlier. Thus, it will help you burn calories.
5. Suffering from stress or fatigue? Taking a sauna bath at home can make you stress-free. In fact, the soothing heat and moisture help you relax aching and tense muscle while easing the mind and spirit.
6. Do you have a frequent pain or illness? Home saunas can act as the temporary pain reliever, easing the symptoms of many illnesses. This is why medical practitioners suggest that there's nothing more relaxing and energizing than a sauna.
7. Need more energy? Taking a sauna at home will leave you energized and invigorated, make you ready to face your next day challenges.
8. Getting away from your daily demands? Home saunas can help you. Inside a closed door and protective steam curtain, a sauna can protect you from the daily demands for every minute of a day.
9. Avoid the gym or health clubs due to personal reasons like it's expensive or inconvenience? Home saunas can be the perfect answer to this problem. All you need is to install home saunas and enjoy benefits of gyms and spas can offer but in a more private, convenient way.
10. Concerned about the costs of home saunas? It will pay for itself easily in your improved health and in saving you money from spa and gym.
Conclusion –
Now you might have got your answer whether you should install a home sauna or continue going crowded and over expensive spa. It's up to you.
Set your mind? Interested in creating your own private sanctuary? And want to be away from the hurly-burly of the outside world?
Then, why are you waiting for? Check out your options for home saunas at Cedar Barrel Saunas and experience the health benefits of gym and spa in the comforts of your home.
CedarBarrelSaunas.com is a manufacturer & supplier of indoor & outdoor saunas, wood fired saunas, sauna heaters, barrel saunas, DIY sauna kits, steam saunas, ,infrared saunas, cedar saunas, round saunas & many more. Contact us today and unlock our special offers, discounts on sauna kits.
August
22
2017
Outdoor Sauna for A Great Backyard
Do you want to make your backyard comfortable, useful and inviting? A backyard is an extension of the home. As an outdoor space, the backyard proves to be the perfect spot, where you can entertain your guests or spend some quality time with family members/friends. It is important to style the backyard with some must have elements like an outdoor sauna and many other things that reflect your personality and suits personal tastes.
Let us discuss some of the must haves for the best backyard!
1. Garden Umbrella:
Adding a high-quality garden umbrella not only provides a shaded area but also creates a visual interest. If you want to enhance a flat backyard, then consider putting in a garden umbrella that will add a pop of color to the yard. Under a garden umbrella, you can spend quality time with your friend, family members or entertain the guests. No doubt, a high-quality garden umbrella will prove to be one of the best must haves for your backyard. Make sure, you install a tear resistant and water repellent garden umbrella, which will prove to be a great investment.
2. Tiki Torches:
Small yet eye-pleasing the tiki torches are one of the best ways to enhance your backyard look and feel. There are many tiki torch styles available in the market or hardware store, from which you can use the right one to brighten up your backyard. Adding the tiki torches to your backyard bring style and functionality to your outdoor space as well as also helps in keeping the bugs away.
3. Hammock:
You will simply love to maximize your down time with a yard hammock. As per your requirement and choice, you can prefer a modern or traditional style hammock to spend some relaxing moments. Opting for one of the best types of the hammock- a backyard hanging bed, you will enjoy an extra measure of comfort.
4. Outdoor Lighting:
You can have the most out of your backyard by installing outdoor lighting. By having a strategically placed outdoor lighting, you can spend time in the backyard under the stars (with friends, family members, and guests) and avoid tripping over things.
High Performance Outdoor Sauna:
Installing an outdoor sauna in your backyard will prove to be the most valuable addition. Adding up a sauna makes the look and feel better of your backyard as we as also provides a quiet place to meditate and enjoy a relaxing heat session. A sauna in the backyard will allow you to enjoy an effective heat session in a convenient way that helps in detoxifying your body from all toxins and chemicals via sweet. Compared to visiting the gym, sports club and spa, you can enjoy a comfortable and inexpensive sauna session by installing an outdoor sauna in your backyard. The mental and physical health benefits of a sauna session make it a must-have for your backyard.
If you want to know more about the high quality and durable outdoor saunas, then please browse through this url: https://www.cedarbarrelsaunas.com/outdoor-saunas.html!
Could not load more posts
Maybe Soup is currently being updated? I'll try again automatically in a few seconds...
You've reached the end.